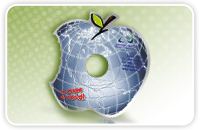 Looking to catch your customer's attention? Try shape CD and DVD! You can choose from our standard and ready shapes, or we can produce a custom shape for you. Our CD and DVD manufacturing services deliver quality results, on-time every time.
There are many uses for shaped CDs:
• Special Events & Promos
• E-Catalog Distribution
• Retail and Wholesale
• Professional Services
• Corporate or Individual Profiles
• Recruiting and Job Placement
• Education
• Real Estate
• Integrating with a Website
• Direct Mail Campaigns
• New Product Launches
• Special Event Marketing
• Grand Openings
• Sales Presentations
• Promotions
• the list goes on!

Making a Shape CD can be as simple as 1-2-3
1. First send us your drafted artwork and expected amount of data capacity, say a heart
shaped with 30MB.
2. We will evaluate the feasibility and feedback with possible adjustment to your original
design if necessary.
3. Once final shape is approved by you we will start the production.
Your artwork can be in any graphics format as long as it has 300 dpi (dots per inch).
We suggest use Adobe Photoshop or Illustrator.